Vassilator
---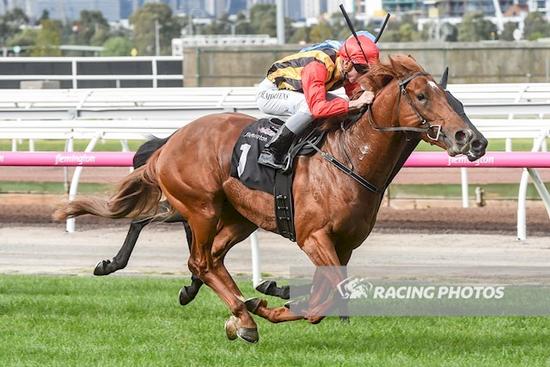 Sire: Zacinto
Dam: Highlights
Colour: Chestnut
Gender: Gelding
Age: 4 year old
Foaled: Sep 19th, 2015
Country: New Zealand
Silks: Gold and Black stripes, Red sleeves and cap
Trainer's Name: Colin Little
---
Owners
C W Little, J Adams, A F Brown, J G Connellan, I E Hopkins, R M Fitzroy, Mrs I Sampieri, B T Gallagher, P Goodwin, P A Snaddon, P J Dempsey, P F Vassallo & P Cramer
---
Career Record: 18-2-1-1
Prizemoney

$537,275.00

Wins

11.1 %

Place

11.1 %
---
Pedigree
VASSILATOR (NZ)

Chestnut Gelding
Foaled in 2015

---

| | | | |
| --- | --- | --- | --- |
| Sire | Dansili | Danehill | Danzig |
| ZACINTO (GB) | | Hasili | Kahyasi |
| 2006 | Ithaca | Distant View | Mr. Prospector |
| | | Reams of Verse | Nureyev |
| Dam | High Chaparral | Sadler's Wells | Northern Dancer |
| HIGHLIGHTS (NZ) | | Kasora | Darshaan |
| 2010 | Shining Light | Star Way | Star Appeal |
| | | Nuccina | Danehill |

---

ZACINTO (GB) (Bay 2006-Stud 2012). 3 wins-1 at 2-at 7f, 1m, Goodwood Celebration Mile, Gr.2. Out of SP Ithaca. Sire of 100 rnrs, 50 wnrs, inc. SW Ugo Foscolo (New Zealand Two Thousand Guineas, Gr.1), Secret Allure, Vassilator, Odeon, Zigwig, SP Brilliant Venture, Karalino, Monrecour, Charlie Horse, Son of Zac and of Miss Mandito, Navagio, Shadow King, Wize Act, Zawhip, Aerohappiness, Not Usual Talent, High Distinction, Midsummer Magic, etc.

1st dam

HIGHLIGHTS, by High Chaparral. Unraced. Dam of one named foal-

VASSILATOR (g. by Zacinto). 2 wins. See below.

2nd dam

Shining Light, by Star Way. 3 wins from 1400m to 2200m, NZ$122,075, A$2,400, ARC Prize Lady H., Matamata RC Mapperley Stud H., 2d Hawke's Bay Gold Cup, Gr.2, CJC Warstep S., L, Manawatu Breeders' S., L, Waikato RC Neil & Francey's 5th Wedding Anniversary H., 3d WRC Cuddle S., Gr.3, Rotorua Cup, Gr.3. Dam of 4 named foals, 3 to race, 2 winners, inc:-

Sparkling Dragon. 4 wins at 1200m, 1400m, HK$3,492,200, to 2018-19, HKJC Granville H., Lai Chi Chong H., Wong Chuk Hang H., Panasonic OLED TV H., 3d HKJC Griffin Trophy, Fat Choi H., Matheson H., Norfolk H.

Light Em Up. 3 wins from 1600m to 2100m, Manawatu RC Patton Engineering H., 2d Taranaki RC New Plymouth Motorcycle Centre H.

3rd dam

NUCCINA, by Danehill. Winner at 1300m in Aust. Dam of 6 named foals, all raced, 4 winners, inc:-

Shining Light (Star Way). 3 wins. See above.

Manaia Rose. 2 wins at 1200m, 2d BOP RC Zest H., JL Mills Builders H., Rotorua RC Craig Thom Memorial H., Vistamax LED Screens H., 3d BOP RC Triton Pacific Owens P.

Winner of Winners - Big Shot (Mal.). Winner at 1600m in Malaysia, 3d MVRC Christmas at the Valley P.

Slinkymalinki. Winner at 1400m in NZ.

Goman. Placed in NZ.

4th dam

SHINING CHANGE, by Nashwan. Winner at 2, Deauville Prix d'Avranches. Half-sister to STAR TOUCH, Star Beam. Dam of 3 foals, 2 to race, inc:-

Nuccina. Winner. See above.

Flying Victory. Placed, 3d Saint-Cloud Prix de Palaiseau.

5th dam

SHORT CHANGE, by Nonoalco. Winner at 2, 3d Saint-Cloud Prix des Monceaux. Half-sister to SALUTE, Sabotage, Sirina, Subject to Raise, Skouna (dam of SILVER SNOW). Dam of 11 foals, 9 to race, 8 winners, inc:-

STAR TOUCH (Touching Wood). 5 wins-2 at 2-to 1500m, 540,950fr., US$203,380, Laurel General George S., Gr.2, Deauville Prix des Yearlings, L, Pimlico Maryland City H., L, 3d Longchamp Prix de la Salamandre, Gr.1, Prix Greffulhe, Gr.2, Prix du Rond-Point, Gr.3, 4th Longchamp Poule d'Essai des Poulains, Gr.1.

Star Beam (Baillamont). Winner at 1600m, Maisons-Laffitte Prix Sanctus, 3d Evry Prix Matchem, L.

Shorthand - Born to Win (H.K.). 6 wins from 1000m to 1800m, HK$4,888,520, HKJC Canberra H., Duddell H., Po Yee H., South China Sea P., 2d HKJC Kwangtung Cup, American Club H., Hennessy H., Xinjiang H., Shenzhen H., Denver H.

Shining Change. Winner. See above.

Short Silver. 5 wins from 2000m to 2400m in France.

Star Change. 4 wins-1 at 2-from 1250m to 2200m in France. Producer.

Short Order. 2 wins-1 at 2-at 1500m, 1600m in France.

Sharp Change. Winner at 2400m in France. Dam of-

Stendhalien. 5 wins from 1600m to 2200m, Chantilly Prix de Malgenest, Prix de Rully, 3d Deauville Prix de la Dorette.

Sharp Spring. 3 wins from 1600m to 1800m, 2d Deauville Prix du Hameau Perre, 3d Saint-Cloud Prix de Villaroche, Prix Always Earnest, Deauville Prix de Balme. Producer.

Xevilla. Raced once. Dam of-

Sziget. 4 wins from 2100m to 2900m to 2019, Saint-Cloud Prix des Pyrenees Atlantiques, Prix de Courtrai, Maisons-Laffitte Prix du Petit Morin, 3d Deauville Prix Etalon Mawatheeq au Haras du Thenney.

Corps a Corps. 2 wins at 2700m, Chantilly Prix de Route des Genets, 2d Deauville Prix Mujahid, 3d Deauville Prix de Brucourt.

Scant. Unplaced. Dam of-

Sckheyl. 6 wins-1 at 2-to 1500m, Rome Premio Ladislao d'Angio.

Nata's Jam. Winner at 2, Milan Premio Gozzano, 3d Milan Premio Alessandro Sambruna, Premio Anzano Al Parco.

Dedo. 2 wins at 2, 2d Curragh Scurry H., Keatley Equine Groundcare H., 3d Curragh Boylepoker.com H., Leopardstown Heather Road H.

Race Record: 17 Starts 2-1-1 A$533,275.

2 wins at 2, A$533,275, VRC Anzac Day S., L, G Watson Hall of Fame 2YO Trophy, 2d MRC Caulfield Guineas, Gr.1, 3d MRC Le Pine Funerals H., 4th VRC Sofitel H., L.